Influencer Marketing in Singapore (part 2)
How To Choose Your Influencer Types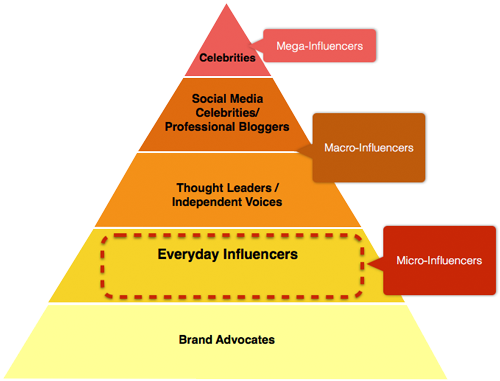 Not all influencers are the same. Over the past few years, there is a big shift in focus from these high-end influencers to micro-influencers. Influencers with a high reach and lower relevance, like celebrities and thought leaders, are at the top of the pyramid, while those with lower reach but higher relevance, like advocate and current customers are at the bottom. Micro-Influencers is a mix of people who have reach, but more importantly, have a high relevance among their audiences. Their influence lies in their niche understandings and the mutual trust with their audiences.
Spectrum of Influencers
The term 'influencer' used to describe celebrity and social media elite. But the mass adoption of social media leveled the playing field to include bloggers, instagrammers, youtubers and even everyday consumers. As such, the industry is working to establish a common taxonomy to talk about influencers. Influencers can be identified among the following three types:
Mega-influencers: Actors, artists, athletes and social media stars who have 500k+ followers and drive 2%  to 5% engagement per post. They have the highest reach on the influencer spectrum, with their influence driven by their celebrity (they tend to be brands in their own right). They have the lowest overall resonance when it comes to driving actions on behalf of a brand.
Macro-influencers: Professional bloggers, and YouTubers who have large base of 50,000 to 500,000 followers and drive 5%  to  20% engagement per post. They have the highest topical relevance on the spectrum, with category-specific influence – such as lifestyle, fashion or business.
Micro-influencers: Everyday consumers  who have 1,000 to 100,000 followers and drive 25% — 50% engagement per post. They have the highest brand relevance and resonance on the spectrum of influencers, with influence driven by their personal experience with a brand and their strength of relationship with their networks.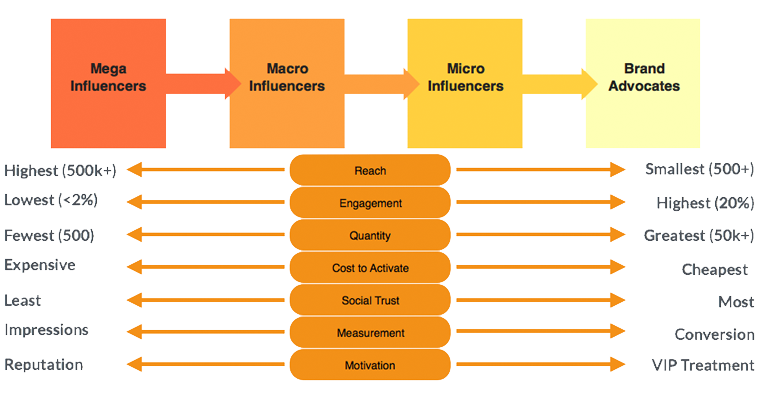 Social Media Influencer Landscape in Singapore
Mega-influencers: Earn their living some other way (e.g. athlete, actor, artist, top model, celebrity), and monetize their influence as a secondary source of income.
Macro-influencers: Earn their living as an influencer (e.g. professional blogger, creator, or journalist).
Micro-influencers: Consumers who have relevant influence and may not know it, or aspire to become a macro-influencer.
Brand Advocates: Consumers who are passionate and willing to share, but have little influence.
This article was adapted from and first published on www.starngage.com.